Application - Laser Marking
Pulsed Fiber Lasers are renowned for their versatility with laser marking being one of the most popular applications. This process is used to mark various materials including ceramics, LEDs, metals, plastics and rubber. Although similar to laser engraving, the appliance of a mark is at a surface level, whereas engraving is a mark with depth. Laser marking is the process where a material, which can be anything from ceramics to plastics to metals, is marked or labelled with a simple black mark, or in colour (depending upon the material).
Popular laser marking applications
Laser marking is typically used for processes such as applying labels with bar codes, date codes, QR codes, serial numbers, part numbers or adding copyright/trademarks and logos to a number of different surfaces in many industries. Another popular use is the addition of a date value being added to materials such as metals and plastics; this could be used as a best before date or maintenance due date, etc. Additionally, marking is very useful in the creation of ID and smartcards offering high degrees of fraud prevention.
There many advantages of using a laser over other marking methods, including – mark durability, lower use of consumables, repeatability and reductions in process times. Marking with a laser is extremely popular in manufacturing industries and is widely integrated into sub-processes across the production line. Buy the perfect SPI Laser for you, we manufacture a range of Pulsed and CW Fiber Lasers which will exactly match the beam quality and power level required for the marking task needed.
Laser marking using SPI Laser's Pulsed Fiber Lasers
SPI Laser's reliable and robust Pulsed Fiber Lasers combine a wide range frequency pulsing output with high peak power to deliver highly precise, efficient, and durable marks that will last. The marking process is also occasionally used in laser cutting, welding and drilling systems.
For a basic black mark or any combination of coloured marks, an SPI Laser is an excellent purchase which is used globally by industrial manufacturers. Our Lasers combine a wide range frequency pulsing output with high peak power to produce long-lasting very fine, extremely precise, controlled marks and ablation. Using a galvo mirror delivery these units can mark almost any material at very high speed.  We produce many different models to match the power level and beam quality required for the task at hand.
Laser markers are easily integrated with material handlers, X-Y tables, galvos, rotary axis drives, bowl feeders, conveyors, dial tables and other industrial manufacturing equipment. Laser marking is also sometimes incorporated into Laser cutting, Laser welding and Laser drilling systems.
Below you will find two types of documents to help increase your knowledge on the capabilities and applications of laser marking: 
'Applications Insights' are detailed articles on specific applications.
'Application Postcards' are bite sized insights on specific applications, designed to be easily digested in a matter of minutes.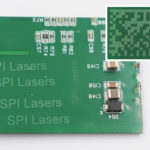 Application Postcard
Posted on 21/12/2018
PCB's (Printed Circuit Boards) are used everywhere in electronic technology. Their convenient size, light weight and good strength properties allow for more compact circuits to be constructed. Moreover, modern multi-layer boards offer the... read more >