Application - Laser Drilling
Laser drilling is the process of creating "popped holes" or "percussion drilled" holes in a material, which is achieved by pulsing a laser beam on a particular area repeatedly. This process will differ depending upon the thickness of the material, the number of holes that need to be created, and the size (width and depth) of these holes. Drilling with lasers is renowned for its high levels of precision, which is achieved without any direct contact with the material surface.
Laser drilling is in widespread use throughout many industries, but especially in aerospace, automotive, electronics, medicine and electronics (especially in the semi-conductor industry).  Laser drilling is particularly suited to low batch manufacturing and also for use in prototype designs (where expensive tooling costs can be eliminated). Traditional drilling techniques find it hard to replicate consistently the quality required in larger quantity batches, but with laser drilling every production piece is 100% perfect every time. The process can be used with a wide variety of materials, metal drilling (e.g. stainless steel) is very popular as is the drilling of ceramics, plastics and other industrial materials.
Laser Drilling Solutions from SPI Lasers
Choose an SPI Laser to meet your entire laser drilling needs from the smallest to the largest of holes. Lasers make it possible to machine very small, blind, unusually shaped and precisely tapered holes. They can drill holes at steep angles and process difficult-to-machine materials. A single set-up can produce hundreds of different sizes over a 3D surface. Whether the requirement is for percussion or trepan style drilling an SPI laser can be programmed to deliver highly accurate drill holes!
SPI Lasers range of lasers offers hundreds of different possible outcomes for your drilling needs, from small, blind, precisely tapered holes to larger ones. A single-set up of our machinery can produce an almost limitless amount of sizes across a 3D surface. Read through our collection of application insights and postcards to gain a deeper understanding of how the process works in practice.
'Applications Insights' are detailed articles on specific applications.
'Application Postcards' are bite sized insights on specific applications, designed to be easily digested in a matter of minutes.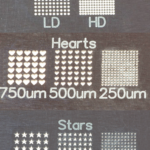 Application Postcard
Posted on 27/04/2018
Laser drilling is a widely used process across multiple industries including; aerospace, automotive, electronics and medical. Drilling with a Fiber Laser can be used across a wide range of materials including various metals (aluminium, copper,... read more >