Application - Laser Cutting
Laser cutting is a process where a material is cut, and this can be for small & fine materials or materials with a much greater level of thickness. Laser cutting simply involves the use of a focused laser beam to cut a wide-range of materials to a high-level of accuracy and repeatability. The laser beam can easily be programmed to precision cut a diverse range of thicknesses and materials (e.g. metals brass, tungsten, steel and copper, etc.), gemstones, ceramics, graphic composites, silicon and plastics).
Industrial Uses & Applications of Laser Cutting Systems
Laser cutting has a number of application areas, particularly in industrial manufacturing where a higher output is required but is also used in schools, Aerospace the military and in small businesses. Systems for cutting with lasers are used in a wide range of industries such as cutting stents in the medical industry, cutting parts to shape in manufacturing and industrial settings, cutting silicon for solar cells and semi-conductors as well as cutting of gems for use in the jewellery industry.
Once a Fiber Laser has been used to cut, organisations will never revert back to traditional techniques. These are often much slower, involve costly tooling charges, can struggle to cut very thick materials and often entail lengthy process set-up times. Laser cutting processes also typically consume much less power than traditional cutting techniques, so could be a bona fide part of reducing an organisation's carbon footprint.
Laser Cutting from SPI's range of Pulsed and High Power CW Fiber Lasers
SPI Lasers equipment is able to cut through a variety of materials with a high level of speed and efficiency, all while maintaining perfect quality, to leave a smooth edge finish with any material that it cuts. Whatever your cutting application, the SPI laser range of Pulsed and CW Fiber Lasers will be perfect for the task. Our range is adept at the absolute precision cutting of even the finest of materials and is able to cut a wide range of materials of differing thicknesses.

redENERGY G4 Pulsed Fiber Laser Cutting & Marking 0.3mm & 0.9mm Copper
Laser cutting to ensure smooth edge finishes while maintaining the efficient speed and production rates can be easily achieved with the correct power Fiber Laser, even reflective metals can be effectively cut with pin point accuracy. Trust SPI Lasers to supply very high-quality Fiber Lasers which will improve operational efficiency. Read through our collection of laser applications and insights for more details on this topic.
'Applications Insights' are detailed articles on specific applications.
'Application Postcards' are bite sized insights on specific applications, designed to be easily digested in a matter of minutes.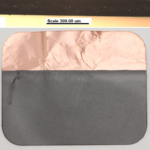 Application Postcard
Posted on 12/12/2018
Lithium ion batteries can be found everywhere from phones and laptops to electric cars. The automotive industry is set to increase it's demand for these batteries drastically in years to come. This means the manufacturing process will need to... read more >